The Toughest Week
Please, Lord, never let me grow callous or hardened about what I saw this week in our schools initiative.
You see, this was Burial Week in our program at Bear Creek Middle School. And I do mean burial, as in funeral, as in final goodbye.
Our partner in the Power of Half Schools, social worker Dr. Ed Morris, created the burial idea several years ago as a way for students to begin dealing with the pain in their lives. He reasoned that until students dealt with their social and emotional needs they couldn't focus on what schools were asking them to do -- study and learn. After all, what young woman is concentrating on geometry when she's fretting about her real life of poverty, molestation, a fatherless home, or no home at all?
The burial is a central part of our schools initiative -- a dramatic, cathartic, jarring moment of symbolic release. So, on Monday, students in the 7th and 8th grades wrote essays about the issues that were holding them back from being their best. Then, on Tuesday, they brought those essays to an assembly/burial.
As our master of ceremonies, performer Rodney Johnson set the stage powerfully, telling the students, "I don't want you to think of this as just another assembly. I want you to think of this as an event that will alter your life." And he continued: "I want you to know today is a serious day. Today you will take control of your own lives and your choices.... Some of y'all have lost hope, some of y'all have lost direction, some of y'all think you're never going to be successful. But I want you know that today's assembly is about change. Today's assembly is about a new direction."
Radio host Derrick Boazman delivered a eulogy. "I wish we lived in a world where we could be less serious. But these are serious times," he told the students. "The butterfly can only come to life after the caterpillar has died. You, like the caterpillar, must die in some ways."
That way, of course, Dr. Morris reminded the students in his talk, was to "deal with the hurt and pain that you feel -- to deal with those sores, to bury that pain."
The star of the show was, of course, the casket. As it was rolled to the center of the gym by several of the student government members from Frederick Douglass High School (brought here by Athletic Director Dallas Allen to better understand our initiative), students stared in solemn thought. The metallic blue casket had been polished to a bright shine, the silver crosses adorning the outside sparkled. As the casket hinges opened, you could hear an audible gasp at the reveal of the padded, pillowed, silk-covered interior.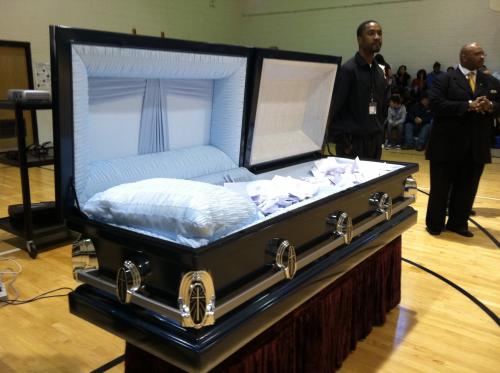 Morris called for additional social workers and faculty to move to the center of the gym. He knew what was coming next: A stream of students, slowly and cautiously at first, then with more confidence began walking to the casket, dropping their essays -- their very personal reflections -- into the casket. Morris's words echoed over the crowd, "You are safe here today. You are safe here today. You are safe here today."
Students cried, some into hard, wrenching sobs. Other sat glumly on the bleachers, deep in thought. Some, in desperate need of a hug, sought out a friend or a faculty member. There was no mistaking the solemnity of the moment.
The Bear Creek counseling group of Morris, Ronnie Andrews and Naima Williams was bolstered by a Fulton County team of Michelle Hession, Grady Davis, Kedric Sledge, Jacqueline Cathey and Yesenia Carrillo. Their afternoon was filled with 7th and 8th graders who, often for the first time, brought forth their deepest pains.
The work of moving forward is just getting started. But that work has indeed begun.
I'm just starting to read all the essays -- more than 700 of them. I'll be back in a day or two to share what I'm reading. But I know this: I want to continue to feel these burial days. I want the students' pain to stay real for me.
It helps me to stay present and vital for them.