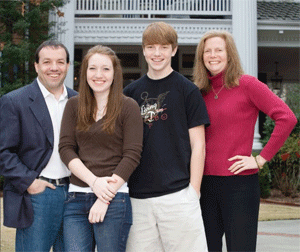 Joan was raised in Iowa, Kevin is from Brooklyn NY, Hannah was born in Washington DC, and Joseph has lived his whole life in Atlanta. All of Hannah and Joseph's grandparents (Joan and Kevin's parents) were teachers, and Joan now teaches at the Atlanta Girls' School.
Kevin spent 18 years writing and editing at the Wall Street Journal, then left to create his own company in 2000 and has been an entrepreneur ever since. He is on the board of Atlanta Habitat for Humanity and Year Up Atlanta.
Joan enjoyed a first career at Accenture for nearly 20 years before her heart told her to go back for a Master's and build a second career as a teacher. Joan has worked with organizations serving seniors and as a mentor with Big Brothers/Big Sisters.
Hannah is an 19-year-old college freshman. She started volunteering in the 5th grade, working at Cafe 458, a restaurant that serves homeless people, and at the Atlanta Community Food Bank.
Joseph is a 17-year-old high-school junior with a passion for baseball and music (guitar and trombone). He began working at the food bank when he was 8 years old.
We realize that we're not unusual in the arena of volunteerism -- it blows us away how generous people are with their time. We all hold great admiration for people who dedicate themselves to a cause and put their money and time where their mouths are.
Hannah once said that she most admires Mother Teresa because she lived her beliefs. Selling our house and giving up some of our possessions is a far cry from the sacrifice of Mother Teresa. When it comes to aligning our actions with our passions and beginning to help affect change, we are just getting started.