A big expansion
Boom. And just like that, a thousand more kids were added this week to The Power of Half Schools Initiative. Here's the story of how it happened.
Frederick Douglass High School is a proud but struggling school on Atlanta's West Side. The alma mater of Martin Luther King Jr.'s children, Douglass's past decade has been marked by weak test scores, declining graduation and enrollment rates and several leadership changes. School officials have tried to hold off the ills of the surrounding neighborhood: gangs, drugs and more.
In short, Douglass has been a school battling all the big-time urban problems and, despite well-meaning and smart people, losing the battle.
But a new administration there is far from giving up. Thomas Glanton, the principal, came in two years ago determined to bring back Douglass's former glory. So did Dallas Allen, the athletic director who came over from Westlake High School after sending 27 of his football players to the NFL, including Cam Newton. Social worker Quarma Cook rolled up her sleeves to help students with their social and emotional needs.
About two months ago, they called Ed Morris, our partner in the schools program. "We need help changing the culture around here and we want to use your program to help us do it," Coach Allen told Ed. Allen's case was bolstered after he and Ms. Cook sent a dozen students to see our program in action at Bear Creek Middle School; the students came back demanding that Douglass move forward with The Power of Half program.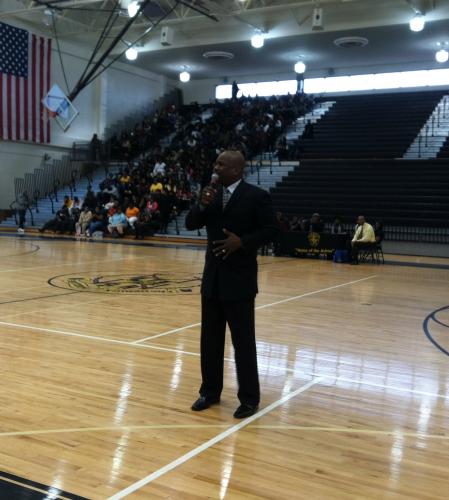 So, on Friday, with nearly 1,200 students from all four grades in the Douglass gym, we launched. Our teammate, comedian Rodney Johnson, opened with an impassioned plea to the students to see a new opportunity for themselves. "It's not your fault that you are in the condition you're in," he told the students. "The adults in your lives have failed you. Now it's up to you to boost yourselves. And there are people all over this building ready to help when you do."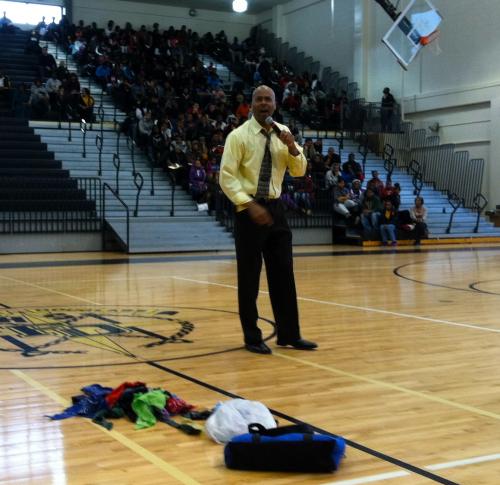 Ed stepped up next, with a blue and black duffel bag in his right hand. "We are here because we love you," he said, "and we're not going to let more of you die or join gangs or become drug addicts. We love you too much for that." Then Ed unzipped the bag and poured out the contents: Dozens of gang bandanas from previous programs. The students gasped.
I went last, offering up Hannah's story of moral outrage about the disparities in our community that pushed us into giving up our house. But mostly I focused on how a teenage girl recognized that she had the power to change not only our family but the lives of others. "You can do this too, you have the power in you," I told the students. "You are the ones you have been waiting for."
As the students headed off to their classes, many sought us out to thank us for giving our time, energy and love. One boy asked me what stocks I like now; he needed a good fictional investment for his business class. One particularly appreciative young lady confessed to Rodney that she had been raped by her father and was now in foster care. And she expressed her eagerness to move forward from here. Ed smiled as a female student marveled to her friend, "He said he loves us. Can you believe it?"
Later that morning, one teacher hugged us. Another dozen offered any help we needed.
So, we're off and running at Douglass. Next up, the students will write essays about what's holding them back from being successful. Those will be placed into a casket during our burial ceremony at the end of the month.
The journey begins.